For any individual product, there are maybe many shortcomings, but no matter, it will one to two advantages. As the outstanding products, then there will be more than a luminous point, then, for self-priming sewage pump, what advantage it have?
1.Good performance
Compared to general products, it is self-priming to a height more than 1 meter, it is commendable that higher self-priming height will cost less time.
2.Good sewage capacity
For sewage pump,the most worried about is clogged, once clogged, it will seriously affect the work efficiency. But self-priming sewage pump is designed with the professional anti-blocking devices, the possibility of clogging can be reduced to a minimum .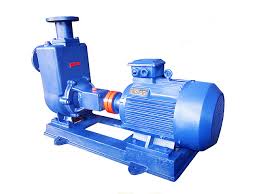 3.Green energy
Energy savings actually a problem we must pay attention. The self-priming pump has advanced hydraulic devices, relatively than ordinary products, in terms of power increased by 3 to 5%, Do not underestimate this figure, it can save a lot of money indirectly.
Because it has so many advantages, so its use will be more extensive and professional, chemical, petroleum, pharmaceutical, mining, paper, fiber, pulp, textile, food, power plants and municipal sewage works, public facilities, sewage, river pond breeding and so on,all use self-priming sewage pump.