Pump impeller and drive the impeller motor are sneaking into the water to work in a submersible pump, submersible pump is divided into deep well and operating surface.
In the use of submersible pumps should be high-definition motor rotation direction, and now there are many types of submersible pump forward and reverse are likely to water, but the reverse of the water is small, the current is large, reverse the time Long after the damage will be the corresponding motor winding. Submersible pump the mortgage power supply line is relatively long,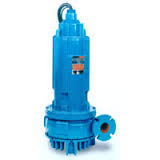 the line terminal voltage is too low is often. When the voltage and the line voltage is lower than the corresponding voltage, the submersible pump motor speed decreases, when less than the required speed, start the centrifugal switch will be other, resulting in a long time to start the winding power and heat Burn the corresponding windings and capacitors. The voltage is too high will burn out, in the operation must be observed at any time the corresponding power supply voltage value, abnormal after the motor should immediately stop rotating, find out the cause and troubleshooting.